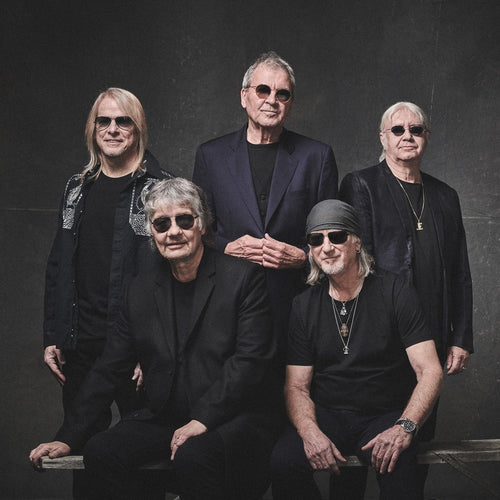 Tue, Oct 09, 07
DEEP PURPLE – 3 NIGHTS IN FLORIDA
By Yoichiro Minami
Since the release of 1998's "Abandon" album, seems like Deep Purple has been on the road forever.  That said, a full scale U.S. tour has not taken place since 2004's Bananas / Machine Head tour.  In fact, it's been six years since the band last played Florida, which was documented and released as an excellent "Perihelion" DVD.  "Rapture of the Deep" tour has been going on for about 18 months now, but surprisingly this is the first time the band is hitting the U.S. shores during this span.  Steve Morse has explained in our interview as to why this is the case, so I am not going to elaborate this issue here.  Funny thing is, Deep Purple actually does have many ties to Florida.  The band has recorded both "Purpendicular" and "Abandon" at Greg Rike Studio in north of Orlando, and Steve himself lives not too far from there.  Since Michael Bradford has taken over the producer's helm, the last two albums have been recorded in Los Angeles, although "Bananas"' pre-production did take place in Greg Rike if I remember correctly.
Thus, catching the band here in Florida at the opening of "Rapture~" Tour U.S. leg seemed like a great opportunity.  The first show is an intimate club gig at House of Blues in Disney World; the second is an outdoor show at an amphitheatre in Pompano Beach near Miami; and the third is going to be an indoor 2000-seat theatre gig at Ruth Eckerd Hall in Clearwater near Tampa.  Three shows in three days, with all of them having different characteristics.  This report will be covering all three shows which took place during a hot Florida summer of 2007.
May 13, 2007: House of Blues Club Show, Orlando, FL., U.S.A.
Setlist:
1. Pictures of Home
2. Things I Never Said
3. Into the Fire
4. Strange Kind of Woman
5. Rapture of the Deep
6. Fireball
7. Contact Lost / Steve Morse solo
~ A Well Dressed Guitar
8. When A Blind Man Cries
9. Lazy
10. Knockin' at Your Back Door
11. Don Airey solo
~   Perfect Strangers
12. Space Truckin'
13. Highway Star
14. Smoke on the Water
Encore:
15. Hush (Incl. Drums Solo)
16. Bass Solo ~ Black Night
By the time I arrived at House of Blues, it was already past 7 PM.  Edgar Winter Group was to open for all three Florida shows.  To many in the audience, this pairing was a reminiscent of the glorious seventies.  The floor section inside was jam packed, and even the mezzanine section had few spots left with any decent view of the stage.  There seemed to be at least 1500 in the venue, which really is a good turn out.  Imagine being jam packed with 1500 wild crowd in a rock club in Florida's July – the enthusiasm and the accompanying heat from the audience sure did add some special feeling to this experience.
Edgar Winter Group took stage at 8 o'clock sharp, and doused the welcoming crowd with "Free Ride", "Frankenstein", "Tobacco Road" and such.  Edgar's interplay with his guitar player was quite fascinating, and the way he held his keyboard like a guitar seemed like no time has passed since 1974, in a good way.   Edgar and his group was a great choice as an opening act for Purple, and this night's crowd sure did appreciate their effort.
After a few interesting pre-show tunes (an acoustic blues version of AC/DC's "T.N.T", cabaret-like version of Van Halen's "Jump" to name a few), the house lights went off.  Ian Paice's thunderous drumming leading the way, the band launched into "Pictures of Home."  The basic structure of the show itself is similar to this year's European tour or last year's Japanese tour.  As for the set list, "Into the Fire", "When A Blind Man Cries", and "Knocking at Your Back Door" has replaced some of the newer songs from "Rapture of the Deep." Ian Gillan's voice seems to be in a great shape, while their signature groove (heavy but ever oh-so-smooth!) is flawlessly driven out of the hands of Roger Glover and Ian Paice.  As any self-respecting diehard Purple fans should know, this groove is the core of Deep Purple sound.
It's been 13 years since Steve joined the band, and it is obvious that his presence is something today's Deep Purple cannot do without.  He has showcased some extremely lyrical solos during this tune, and his graceful fret board workout knocked out all in the attendance.  This alone is enough to make sense for old fans who have not witnessed this band since the mid-eighties.  His interpretation of classic Purple songs is quite refreshing, while successfully keeping the fine balance of not altering the original feel.  "Strange Kind of Woman" and "When a Blind Man Cries" especially benefited from new arrangements, breathing a new life into old favorites.
It is an interesting point to note that "Contact Lost" was played in Florida, the very state that houses the Space Shuttle launching facility, as this song was not performed during the European leg.  Steve's delicate tone quieted the crowd quite effectively, and that was followed by "The Well Dressed Guitar."  Between Don Airey and Steve Morse, some impressive and lightening fast interplay had taken place here.
Then Don launched into "Lazy" with the same exact Hammond B3 sound which Jon Lord used to play.  The floor crowd went into frenzy, as well as a white-haired old man who was standing next to me.  At this moment, this happy fan was swinging his empty beer glass with joyous tears in his eyes!  In fact, Purple had a wonderful audience this night.  They were not only enjoying the music, but also truly appreciating it at the same time.  To witness the real Deep Purple still playing "Lazy" in front of their eyes at such an intimate setting was probably enough to make many of them quite emotional, I suppose.  "Knocking at Your Back Door" was surprisingly tight this night, and I personally felt this version was as exciting as any I've heard since 1985. Then came Don's solo spot.  He was already featured during "Lazy", but this night turned out to be the only Florida show that featured his full solo spot, including Star Wars theme and so on.  During "Perfect Strangers", we were treated with Ian Gillan's unique and interesting Gypsy-like dance steps.   "Space Truckin'" turned into one hell of a groove monster, with that famous descending riff by Roger, Steve, and Don crawling around like a king snake.   Among the three Florida gigs, this version of "Space Truckin'" was definitely a standout
A series of classics finished the show.  "Highway Star" started with a slightly unfamiliar rhythm pattern by Ian Paice.  During this song, Ian Gillan was jokingly looking like he had totally lost his breath.  While Steve was playing that famous guitar solo, Ian countered it by imitating a chicken!  A hilarious move, somewhat strange nonetheless.   Before the band started "Hush", a slight jamming had taken place.  Audience seemed a bit confused at times as there was more jamming and drums solo during this song.  It was not a typical version of this song, and I personally thought this was a fantastic change.  After Roger's bass solo, "Black Night" was played.  The band has not played this one too often in the States as it was not a hit there.  This is also partly because the song was not familiar to many U.S. fans as it was not included in "In Rock" album. The fact that the band played this song here in Orlando seemed to me the proof that the show had gone down extremely well.  The audience was having a great time as well.  This show had gone over two hours at this point, and it ended on a high note.  Highlights of the night would be "Space Truckin'", "Knockin' at Your Back Door", "Lazy", Don Airey's solo spot, and the version of "Hush", if I have to pick.  All in all, a great club show and a fantastic performance to start off this Florida leg.
July 14, 2007: Pompano Beach Amphithatre Outdoor Show, near Miami
Setlist:
1. Pictures of Home
2. Things I Never Said
3. Into the Fire
4. Strange Kind of Woman
5. Rapture of the Deep
6. Fireball
7. Contact Lost / Steve Morse solo
~ A Well Dressed Guitar
8. When A Blind Man Cries
9. Lazy
10. Don Airey solo
~   Perfect Strangers
11. Space Truckin'
12. Highway Star
13. Smoke on the Water, with Mark Stein (Org) and Kevin Morse (G)
Encore:
14. Hush (Incl. Drums Solo)
15. Bass Solo ~ Black Night
"Man, it was hot!  I thought I'd melt on stage!"  Those were the words from Roger at the backstage after the show.   Unlike the intimate Orlando show, this one is an outdoor gig in front of 4000 people at an amphitheatre.  Miami is in Southern Florida, meaning more heat than Orlando or Tampa, and the temperature during the daytime was over 100 degrees this day.  It's rough to watch an outdoor performance under this kind of climate, but it should be even tougher for the band that must perform under the hot spotlights.    Iron Maiden's Nicko McBrain was at the back stage at this show, very Deep Purple-like.
As the venue was located in the middle of residential area, the band had hit the stage at 8:30 pm flat.  What surprised me was the mad dash of the hundreds to the front of the stage that took place as soon as the show started.  There was absolutely no security to control this, and suddenly there was a pit in front of the stage although this show was supposed to be all reserved seating.  This instant pit had created a infectious party-like feel, and soon the entire place had a festival-like feel: beer spilling everywhere, weed's coming around all over, and so on.  The vibe in the place was very much unlike the year 2007.
As for Purple's performance, they were slightly tighter than the night before.  "Pictures of home" was played as if nothing was being held back.  There were smiles on the faces of three front men, and everyone seemed to be enjoying the show.  During "Into the Fire", Ian Gillan showcased a tad different kind of vocal – his style was similar to Gillan days as opposed to the original version.  Once again, only two songs from "Rapture of the Deep" were played this night, but that is probably due to the fact that the majority of audience would prefer better known materials as these were the first Florida shows in six years.  Ian's voice showed a slight wear during "Fireball", but it was not to be a concern as he could rest his throat during Steve's solo spot.  It seemed like Steve had caught on with the mood of the night, and he treated the crowd with Lynyrd Skynyrd's "Sweet Home Alabama."  Even a slower tune like "When a Blind Man Cries" failed to cool down the heat from the audience.  Ian's voice was back full force by this tune, and he sang the song beautifully.
"Lazy" featured a fantastic solo by Don, but for whatever the reason "Knockin' at Your Back Door" was not played here.  Don's solo spot was quite a bit shorter than Orlando, and the band quickly launched into "Perfect Strangers." Then came the "Machine Head" trio, and the last "Smoke on the Water" featured Steve's son Kevin on guitar and Mark Stein from Vanilla Fudge on organ.  As an interesting footnote, a drunken fan next to me thought Kevin was "a new member of Def Leppard" for reasons unknown!  As for Mark Stein, the way he played B3 was enough to convince anyone that he was the one who had invented hard rock organ playing along with Jon Lord.  A very fitting ending to a festival like atmosphere.
"Hush" and "Black Night" were much tighter than the night before; both played like the band meant the business.  "Black Night" was especially superb, reminiscent of the historical version recorded at Budokan in Tokyo on August 17th, 1972.
The show finished by 10:30 pm, and at the backstage Nicko and Mark were hanging with everyone.  Should Nicko have joined the band on stage during "Smoke on the Water," the place would have gotten crazier, I was thinking.  The highlights of the night's show had to be "Black Night" and "Smoke on the Water."  The crowd also loved "Space Truckin'" and "Highway Star," but "Rapture of the Deep" was just as good as anything that got played that night.
July 15, 2007: Ruth Eckerd Hall Theatre Show, Clearwater (near Tampa)
Setlist:
1. Pictures of Home
2. Things I Never Said
3. Into the Fire
4. Strange Kind of Woman
5. Rapture of the Deep
6. Fireball
7. Contact Lost / Steve Morse solo
~ A Well Dressed Guitar
8. Knockin' at Your Back Door
9. Lazy
10. Don Airey solo
~   Perfect Strangers
11. Space Truckin'
12. Highway Star
13. Smoke on the Water
Encore:
14. Hush
15. Bass Solo ~ Black Night
This is the last show in Florida.  Ruth Eckerd Hall is a modern theatre built not so long ago, and located in a city called Clearwater which is across the bridge from Tampa.  The venue is quite comfortable, and the seats are all nicely cushioned.  I have seen a numerous performances at this venue, but most of the front seating area is reserved for season ticket holders and rather obviously they are not rock 'n' roll maniacs.  Thus, audience rarely stands through a show at this venue.  This Purple show was no exception.  It is a quite different experience from what took place in Orlando and Pompano Beach.  It was weird to see a Purple show sitting though the whole time, but at the same time, it was a very unique experience and an ideal situation to purely observe the band's performance.
To state the obvious, this band's musical potential and each member's technical ability no doubt make it through to anyone in the audience under any circumstances.   The high standard set at Deep Purple's live performance has always been taken for granted it seems. But to actually experience that without any distraction for 110 minutes was quite extraordinary, I must say.
As such, there was no singular highlight of this performance.  The overall impression was that the band played extremely tight and made no obvious mistakes.  It was so good that the whole show could have been recorded and released as a live album.  Personally, I was quite moved by Steve's "Contact Lost" which was followed by a brief appearance of "Sometimes I Feel Like Screaming."   Another highlight was the sit in with Edgar Winter during "Smoke on the Water."  The interplay that took place between Edgar's saxophone and Steve's guitar was quite something.  Mr. Bruce Payne (Deep Purple's manager) was seen taking pictures of this historic moment from the side of the stage.   Don's solo was once again shorter than usual, and Ian's drums solo was completely omitted at this performance, to my disappointment.  Also, "When a Blind Man Cries" was substituted by a fantastic "Knockin' at Your Back Door."
At the backstage after the show, Roger said something like, "it was not too bad for a start of another tour, wasn't it?"  Ian Gillan was relaxing with friends in his pink Hawaiian shirt.  Steve had his family with him, savoring a precious family moment which comes almost too infrequently on tour.  Don was engaged in a serious conversation.  After two days off, they will be playing Chicago, about 1500 miles away.  I thanked Ms. Shoup for arranging everything for us to make this feature possible, and left the venue in high spirits.
During my conversation with Roger, he has mentioned his friendship with Warren Haynes.  When Roger is working on his solo activities, he collaborates with Randall Bramblett who is a good friend of Chuck Leavell.  Steve Morse has known Chuck and Derek Trucks for a long time.  It is not unrelated to these facts maybe, but there seems to be some strange similarity between the unlikely pair of Allman Brothers Band and Deep Purple.  Like Purple, Allmans are also missing two (three if you count Berry Oakley) key original members in Duane Allman and Dickey Betts.  However, the holes created by Duane and Dickey have been adequately filled by two young but talented guitarists, Derek and Warren.  When The Allmans are playing their annual Beacon Theatre run in New York City, if there was anyone who is going to one of the shows to witness the re-creation of their monumental "Live at Filmore East" album, I'd think it's a waste of a great opportunity.
It is a fact that some long time Purple fans are still missing the founders Ritchie Blackmore and Jon Lord.  But it also needs to be understood that what Ritchie really wants to do now is being done by Blackmore's Night as a matter of fact.   The very reason why Deep Purple can still function cohesively and organically today is due to the presence of Steve Morse and Don Airey.   It is obvious to anyone who witnesses the band now, but five musicians in Deep Purple are clearly enjoying playing with each other.   There was always a certain uneasiness being felt even to the audience near the end of Ritchie's tenure in the band, and the band seemed to be only getting darker (not "deeper").  Today, Deep Purple exists with another fantastic world-class guitar player who is truly enjoying playing with them.  Ian Gillan once said, "I am not living in the shadow of Deep Purple, but bathing in the sunshine of Deep Purple."  The addition of Steve Morse seemed to have worked as a catalyst to bring this sunshine back in the group.  Anyone who had experienced this year's Deep Purple here in Florida, the Sunshine State, was surely bathing in Purple sunshine along with Ian Gillan and Co., I believe.