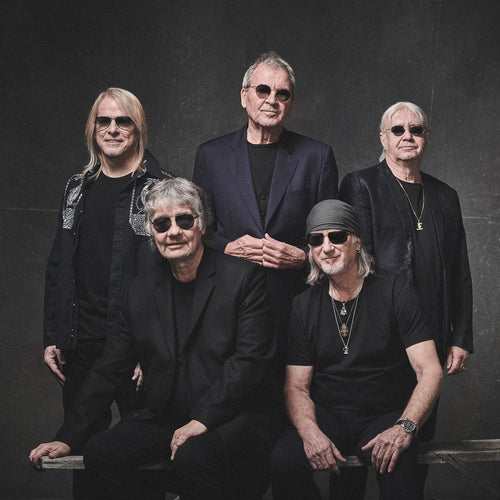 Wed, Aug 15, 07
DEEP PURPLE PERFORM AT THE WARFIELD THEATRE IN SAN FRANSISCO, CA
Dennis Cook
Jambase.com
"Maybe we can cut a hole in the roof and do some space truckin'," quipped singer Ian Gillan before launching the astonishingly well-oiled Deep Purple skyward, catching the couple thousand gathered spectators in their considerable cosmic wake. It's a very silly lyric but there's gut level pleasure to screaming, "We got music in our solar system/We're space truckin' 'round the stars," especially when your neighbors join you in punching the "Come on!" that ushers in the chorus. Going strong since 1968, today's Purple burned with an intensity that put their peers like the Rolling Stones to shame. Nothing has been lost in their pursuit of "heavy music," and maybe a few things have been gained over the years.
In an eyeball-baffling storm of strobes, they opened with a slamming, frenetic "Pictures of Home" and didn't take a breath until three songs in. The force of their assault is almost disorienting, in a nice way. They rough one up a bit but there's an assurance and flow to their playing that marries this power to graceful, melodic structures. Whether it was familiar fare like "Speed King" or very solid newer material like "Rapture of the Deep," Purple invested each selection with undisguised passion, improvising fresh angles at every turn, approaching the music with taut resolve that one suspects is present every night. If anything, the versions presented at The Warfield were categorically harder than the studio versions and compared favorably with 1972's legendary live set, Made In Japan. I'm talking Mars Volta heavy, Metallica rough. So much for "mellowing with age."
Save for the five musicians and their gear, the stage was bare. The light show was kinetic and clearly dialed in but one was struck by the bare simplicity of lifelong players and their music offered with few bells and whistles. None were needed as Gillan rocked on his heels and sliced the air with punches like a prize fighter while guitarist Steve Morse injected boogie fuel into every song as he stood back-to-back with bassist Roger Glover. They exuded a strong sense of happy camaraderie that filtered into the performances. It's undeniably rock music but they trade licks like a hot jazz quintet, stirring the pot with unexpected solos and breathless cross-talk, often moving into close proximity to accentuate the instrumental dialog. You'd catch Glover hopping up to pummel super ace keyboardist Don Airey, who in turn would fire off a baroque organ burst that launched Glover off the riser.
Motion and velocity permeated the whole evening, culminating in the on-our-feet exuberance during the main set's closing trio of "Space Truckin'," "Highway Star" and "Smoke On The Water." These tunes pushed a big candy red pleasure button in our brains, bypassing cynicism and throwing us back to when rock was a gospel truth force and not just a pose or style exercise. For whatever one thinks of Deep Purple, they endure precisely because of this rugged purity. The long bass-led intro to "Highway Star" was breadcrumbs for hungry rockers, a trail worth following even if we wound up in a hot, dark place.
Surprisingly, even the spotlight sections for Morse and Airey (which included an orchestral Star Wars bit that set things off in a funny way) didn't lag. Hell, even drummer Ian Paice kept our collective attention during his solo. The Morse section, built around live staple "Well-Dressed Guitar," revealed what an endlessly tasty guitarist he is, only having grown stronger since his Dixie Dregs days. During his improvising, Morse tossed out bits of "Sweet Child O' Mine," "Little Wing" and "Sweet Home Alabama" to juice the classic rock radio audience. And it worked! Deep Purple is unembarrassed about being an FM radio fixture, though one defined by their earliest work despite years of fruitful creativity that continues to this day. Their most recent studio efforts, 2003's Bananas and 2005's Rapture of the Deep rank amongst their best, showing the unity of this lineup carries onto tape as well as live.
A special nod to Ian Gillan is warranted. Where most of his contemporaries like Mick Jagger and Rod Stewart croak in a pale approximation of their heyday glory, Gillan still belts it out like a trooper. His mixture of dissonant shout and romantic troubadour-ism is a massive part of their appeal, and even when he wasn't singing he was shaking a tambourine or conducting the air with eager hands. Grey at the temples and dressed in a shirt one could imagine an adult Charlie Brown wearing, Gillan still generated a lot of the metaphorical "cock" in this rock. Long may he stay up.
Roaring along with the diverse hoi polloi around me for an encore, I found myself grinning so hard my cheeks hurt. The best live music can do that to us – pull us from our daily grind and rocket us towards higher ground. On one side of me, a quartet of senior citizens sparked up as the boisterous "na na na" of "Hush" seized us. On the other side, a barely dressed young woman and her, uh, uncle shimmied like their bones were jelly as nearly everyone belted out the chorus. Deep Purple had successfully bridged the gap between "us" and "them," and in that moment all were happy. You can't ask for more than that from a concert.