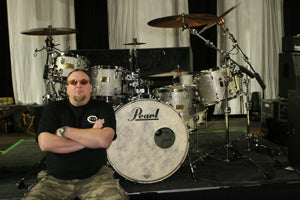 Thu, Dec 20, 07
IAN PAICE'S DRUM RIG PROFILE
Ian Paice is known worldwide as one of the greatest rock drummers of all time. What's his secret? Well, we can't tell you that! But we can tell you about the gear that he uses:

Pearl Masters lacquered silver sparkle
Tom sizes are 10, 12,13, 14, 15 (rack)
Floor tom 16,18 (all standard depth)
26 inch kick drum
Internally miced with the MAY mic system
Remo coaded Embassador heads (white on top, clear on the bottom)
He uses a power stroke 3 (ps3) on the bottom of the bass drum
The front head is a fiber skin
There is only muffling on the bass drum, the other drums are wide open
Ian uses Paiste cymbals.
-15 inch sound edge HH (high hat)
-22 inch crash over the HH (high hat)
-22 inch ride
-24 inch crash over the ride (custom size, only 3 people in the world play them)
-22 inch china
-8 inch splash
The sticks are Pro-Mark signature series- They are celebreating their 50th anniversary this year (Happy Birthday!).  They are hickory wood, model number 8O8L
Ian plays a double bass drum pedal, which is all Pearl hardware
Sean is Ian's drum tech. Thanks, Sean, for the info about the drum rig!
Want to learn more about Ian Paice? Check out his bio HERE.