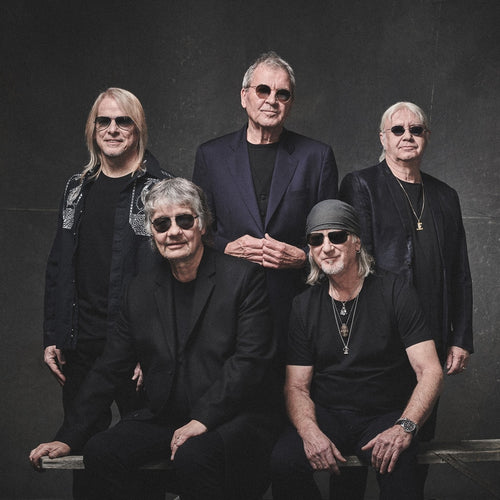 Tue, Jun 24, 08
MUSIC DVD REVIEW: DEEP PURPLE – AROUND THE WORLD LIVE
Written by David Bowling
I hereby declare myself an official member of the Deep Purple family. At least it feels that way as I have just finished watching and listening to the nine-hour, four-DVD disc box set by Deep Purple, entitled Around The World Live, chronicling the concert life of the group from 1995 to 2002, plus a few extras along the way.
Since their debut in 1968, Deep Purple has become recognized as one of the originators of the hard rock, heavy metal sound. Fourteen different musicians have contributed to 24 studio and live albums. Today's group consists of vocalist Ian Gillan, guitarist Steve Morse, bassist Roger Glover, keyboardist Don Airey, and drummer Ian Paice. This is the lineup represented on these discs, except for retired member, Jon Lord, who plays keyboards on most of the concert footage.
Disc 1 is entitled "Bombay Calling." This two-hour concert was recorded in India on April 18, 1995. I love intact performances rather than live albums that are pieced together. Just give me the good with the bad. This concert is a long listen, but is worth the effort for any rock fan and particularly for fans of Deep Purple. Steve Morse had just joined the group and it is interesting to see this early performance.
Deep Purple has always relied on a keyboard/guitar foundation, and Lord and Morse work well together. An excellent example of their growing relationship is heard on the song "Fireball," where they trade leads until Morse takes off and shows just what an excellent guitarist he is. "Black Night" has been a concert staple for years, and here Morse is loyal to the Blackmore guitar lines until becoming inventive about half way through the song.
Ian Gillan is in fine form and leads the group through such staples as "Woman From Tokyo," "Space Truckin," "Speed King," "Highway Star," and "Smoke On The Water." "When A Blind Man Cries" is a showstopper, as Ian Gillan provides a superb blues interpretation.
The bonus feature on this disc is actually another concert. Deep Purple is presented live in Seoul, Korea. This eight-song, 55-minute set is very satisfying and in many ways an easier listen than the longer concert.
Disc 2 is entitled "Total Abandon." This 1999 concert, recorded in Australia, has crisp production, excellent sound and solid camera work. Steve Morse has now been with the band for four years and the sound is tight. Ian Gillian is in fine form as a singer and front man for the group. It is good to hear and see such songs as "Bloodsucker," "Lazy," and "Perfect Strangers" played live. Also interesting is the ability to compare the renditions of such songs as "Black Night," "Fireball," "Woman From Tokyo," "Highway Star," and "Smoke On The Water" as they appear on more than one disc.
Disc 3 is the farewell concert for Jon Lord. "Live At The NEC" was recorded in England and features both Lord and Airey on keyboards. This was a unique concert in Deep Purple history as Jon Lord was making his retirement exit. Such songs as "Hush" and "Mary Long" are resurrected from the archives. This was an emotional performance as Lord's thirty-year relationship with the band he helped form was coming to an end.
Disc four is a 90-minute documentary, which mainly focuses on their later years. Topics that are explored are Steve Morse joining the band, a live concert on top of a mountain in Switzerland in the middle of a snowstorm, and Jon Lord's decision to retire. What quickly becomes apparent is that Lord is the emotional and intellectual center of the band. The extensive interviews find the group members intelligent and fairly introspective. There is a lot of good stuff here.
Around The World Live is a spectacular release and essential for even the most casual Deep Purple fan, however, it is a long journey and should be divided into several listening and watching sessions. When you finish, though, you will have caught up with the modern day Deep Purple; and you, too, will be an official member of the group's family.
Click HERE to get your copy of Around the World Live.