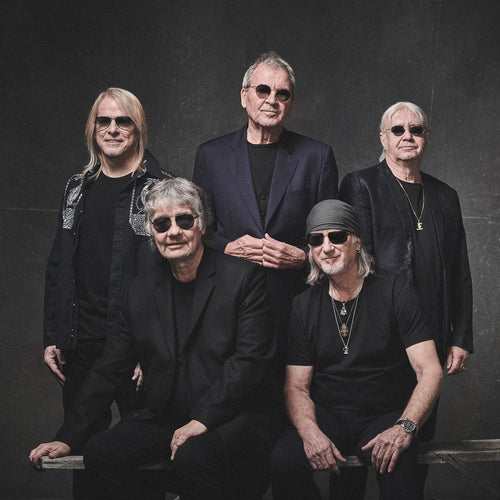 Sat, Apr 09, 16
READ AND WATCH LARS ULRICH'S PASSIONATE DEEP PURPLE ROCK HALL INDUCTION
Lars Ulrich fell in love with Deep Purple when he was nine years old, when his dad's friends took him to see the pioneering hard rockers live in Copenhagen. "They have probably been the primary musical backbone in my body ever since I first heard them," he recently said.
The drummer, who covered the band's "When a Blind Man Cries" with Metallica in 2012, has long called for the group's induction into the Rock and Roll Hall of Fame, as they've been eligible since 1993. When Rolling Stone asked him in 2014 who he'd like to see inducted next, he said the band's name four times. On Friday night, his dream came true when he welcomed the band into the Hall. Here's what he said about the group at Brooklyn's Barclays Center for his induction speech.
This night is a culmination of two musical journeys. One is mine, the other is that of a band that changed my life and rock & roll. When I was nine years old, my dad took me to see Deep Purple on a cold day in Denmark, on a dark cold Saturday night in February 1973. Everything was larger than life, the sound the spectacle, the songs, the musicians, all doing things with their instruments that I had never seen before – and didn't even know was possible. Deep Purple were a beautiful contradiction, like you just walked in on five musicians at the top of their game jamming one classic after another with raw intensity, as if they were in a garage playing for no one but themselves. Yet at the same time projecting a thousand-yard deep stare into the bowels of the arena. That's right, I said bowels. Let me break this down for you. Singer, Ian Gillan, where are you?
Ian Gillan, centerstage, a magnet for the eyes personifying every trait of every frontman coolness, screaming his lungs out and reaching notes so high, I'm sure he was breaking glass all over town. Behind him on the drums, little Ian Paice, a rock & roll cocktail of hair, sweat, spit and position. Somehow, managing to wipe the steam off his glasses after he presses this great train forward and doing it in eight-inch platform heels, very impressive, Ian. Very impressive. At stage right, the regal Jon Lord.
We love Jon Lord, yes we do. I've never seen anyone get so physical with his organ. [Laughs] But I was only nine. He did things with the Hammond C-3 that no one had ever done before, firing the result through a wall of Marshall amps and Leslie speakers, uniquely heaving up the sound into uncharted territory. Let me emphasize this, Jon Lord was the first to truly amplify and destroy the Hammond organ. Sadly, we lost him in 2012. Cowboy hat, paisley shirt, next level smoothness, the one keeping it grounded, groovy and dare I say, sexy? I just said it. His eagle-esque stage presence supported the crossfire energies of his bandmates, disguising a firm mortality as both songwriter, co-producer of the biggest records.
And then there was Ritchie fucking Blackmore. What he did with the guitar did not seem feasible. He played it straight. He played it sideways, upside down and all around. His fingers, hands, arms in a constant ballet of movement and unpredictable moment. The sounds, the screeches, the pitch slides grind against the speakers, playing it with his ass, his boots, throwing it in the air. All the time, projecting a peculiar mix of showmanship, control and aloofness. It was like Blackmore was showing off, but mostly for himself. Harboring on the edge of electric narcissism. At the same time, he was so beyond cool. It was just impossible to look away. These guys could play. That's right. I'm ready to go all night.
This is the advantage of being first. These guys could play. They could improvise. They were in constant and curious cutthroat competition with each other to take the music some place new, some place unknown and never ever the same place twice. Fast-forward 12 hours later, to the local mom-and-pop record store where I requested anything and everything by Deep Purple and was promptly handed the Fireball album. My life, my life had officially changed forever. With almost no exceptions, every hard rock band in the last 40 years, including mine, traces its lineage directly back to Black Sabbath, Led Zeppelin and Deep Purple. And as far as I'm concerned, these three bands should always be considered equals for their songwriting, their recordings and their accomplishments. Where I grew up, and in the rest of the world outside of North America, all were equal in status, stature and influence. So in my heart – and I know I speak for many of my fellow musicians and millions of Purple fans when I confess that – I am somewhat bewildered that they are so late in getting in the Rock and Roll Hall of Fame. [Applause]
Decades, decades after the mighty Sabbath and the brilliant Zeppelin. This of course is of no disrespect to those fans or the Rock Hall, I just have to make clear that Deep Purple are as revered everywhere else in the world. [Applause]
And as the rest of the world is applauding, Deep Purple became big the old-fashioned way. They worked hard: constant touring, making an album a year, sometimes two – never giving a shit about image or critical acclaim. And in the golden age of rock & roll debauchery, they were known primarily for their music and in the sex-and-drug sense, they were reportedly gentleman through and through. In fact, if you must dig, the main dirt on Deep Purple was the revolving door on personnel. Ten different band members in the first seven years, 14 in total.
Let me, of course, give a well-deserved shout-out to everyone else who has played a part in the story, including the three other inductees tonight. I saw two of them in their live debuts, when Deep Purple came back to Copenhagen in December 1973. Right? Singer David Coverdale, he blew me away with these unique bluesy vibes and the quirky mic stand. What the hell was that about? What was that about? And Glenn Hughes. Glenn Hughes, with his white satin suit, way-cool rocker hair to go with his R&B-influenced vocals. And last, but actually first, original singer Rod Evans, who was the voice of the formative Purple in the late 1960s and, on the first hit single, "Hush." Don't be shy. So, from the eight inductees tonight to the 14 band members who have played in this band, it's obvious that great music often comes from tension and what great music it was. The album, just to name few: The Book of Taliesyn, Deep Purple in Rock, Fireball, Machine Head, Stormbringer. And with phenomenal songs, just to name a few, "Wring That Neck," "Black Night," "Speed King," "Child in Time," "Strange Kind of Woman," "Highway Star," "Woman From Tokyo," "Mistreated," the list goes on. You know, one total mindfuck is the difference between the studio and the live versions. If you take "Space Truckin'," for instance, on Machine Head, it clocks in at just around four minutes. On the legendary album, Made in Japan, it's almost 20 minutes long. What happened to that era? The solos, the jamming, the compulsive force in every Purple performance are the reasons Wikipedia lists 42 official live albums. I kid you not. Because they were that good, that different and that inspired every night and they still are. Damn right they still are.
But wait, there's one more song, right? The one everybody knows about, Frank Zappa, burning casino on the Swiss lake, fire was up in the sky. One feature perhaps, the most classic guitar riff of all time, the first thing anybody learns on a guitar, the riff that has actually been banned from being played in music stores to preserve the sanity of the staff. Once again, an absolute truth. The riff that even I, the most illiterate guitar player in the known universe, can actually play. Thank you. You know the title, "Smoke on the Water." Come on. That's right. It's the signature hit and the biggest single. And so huge that Deep Purple may have been mistaken for a one-hit wonder. But if that's all you know even to this day, think about it as a big heavy door into a legacy without end. One that remains as vital as ever in its latest incarnation touring the world, blowing minds and still changing lives.
There's a picture on the nightstand next to my bed. Once again, I keep it. Given to me by my buddy Frank, it's a photo of Deep Purple with my face photoshopped on top of Ian Paice. Sorry, Ian, it was a present. That's how much Deep Purple still means to me, to the fans here tonight and to the millions of followers. That's right. That's right. To the fans here tonight and to the millions of followers around the world, who look upon Deep Purple as epic, unpredictable, energetic, cool, intense, brilliant, impulsive, spontaneous, mesmerizing, jaw-dropping, otherworldly, relentless, pioneering and ultimately timeless. Ritchie Blackmore, David Coverdale, Rod Evans, Ian Gillan, Roger Glover, Glenn Hughes, Jon Lord, Ian Paice, they should have been here a long time ago. They are now here where they belong. I always wanted to say this, please welcome to the stage and to the Rock and Roll Hall of Fame, give it up for Deep Purple.